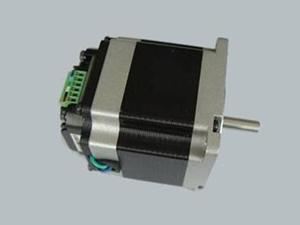 Adopting an integrated driver, this 2-phase stepper motor has strong driving ability. It is small in size and can be controlled and programmed on line. In addition, this product is approved by CE, RoHS and TS16949.
Application
Textile industry: Circular knitting machine, bobbin winder
Medical industry: Biochemical analyzer, blood cell analyzer
Industrial automation industry: Semiconductor testing equipment, winding machine, stripping machine
Advertising industry: Laser machine, engraving machine, marking machine, inkjet printer
Water treatment industry: Screw pump
Bank equipment: ATM
Others: Metro fare collection system, etc.
| | |
| --- | --- |
| Item | Specifications |
| Step Angle | 1.8º |
| Step Angle Accuracy | ±5% (full step, no load) |
| Resistance Accuracy | ±10% (20℃) |
| Inductance Accuracy | ±20% (1KHz) |
| Temperature Rise | 80℃ Max. (rated current, 2 phase on) |
| Ambient Temperature | -20℃~+50℃ |
| Insulation Resistance | 100MΩ Min., 500V DC |
| Dielectric Strength | 500V AC for one minute |
| Radial Play | 0.02 Max. (450 g-load) |
| Axial Play | 0.08 Max. (450 g-load) |
| Max. Radial Force | 75N (20mm from the flange) |
| Max. Axial Force | 15N |
| Rotation | CW( See from the front flange) |
| | | | | | | | | | | |
| --- | --- | --- | --- | --- | --- | --- | --- | --- | --- | --- |
| Model | Rated Voltage | Current per Phase | Resistance per Phase | Inductance per Phase | Holding Torque | Number of Leads | Rotor Inertia | Weight | Detent Torque | Length |
| Single Shaft | V | A | Ω | mH | kg·cm | | g·cm2 | kg | kg·cm | mm |
| FL57STH51-2804A-IE4 | 2.3 | 2.8 | 0.83 | 2.3 | 10.1 | 4 | 275 | 0.65 | 0.36 | 51 |
| FL57STH56-2804A-IE4 | 2.5 | 2.8 | 0.9 | 2.5 | 12.6 | 4 | 300 | 0.7 | 0.40 | 56 |
| FL57STH76-2804A-IE4 | 3.2 | 2.8 | 1.13 | 3.6 | 18.9 | 4 | 480 | 1.0 | 0.68 | 76 |
Related Names
ATM Used Integrate Step Motor | 2-phase Stepper Motor for Carving Facility | Medical Endoscope Used 2-phase Integrated Stepping Electric Machine