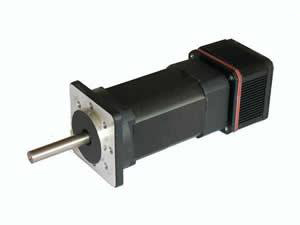 The 42mm brushless motor with internal driver features small size and high capacity. It has forward and reverse running control, speed signal output, speed regulation and other functions.
Application
Vehicle Industry: Engineering car air filter
Industrial automation industry: Automatic doors
Household appliance industry: Hair dryer, milking machine
Scientific instrument industry: Mine gas detector, environment detector
Medical industry: Biochemical analyzer, hematology analyzer, centrifuge
Others: Optical correction industry, etc.
Specifications
| | |
| --- | --- |
| Winding Connection Mode | Triangle |
| Hall Distribution Angle | 120 degree electrical angle |
| Shaft Runout | 0.025mm |
| Radial Play | 0.02mm at 450g |
| End Play | 0.08mm at 450g |
| Max. Radial Force | 10N at 10mm from the flange |
| Max. Axial Force | 10N |
| Insulation Class | Class B |
| Dielectric Strength | 500V DC for one minute |
| Insulation Resistance | 100MΩ Min., 500V DC |
Model
FL42BLS01-IE
FL42BLS02-IE
FL42BLS03-IE
FL42BLS04-IE
Number of Poles
8
Number of Phases
3
Rated Voltage V DC
24
Rated Speed RPM
4000
Rated Torque N·m
0.0625
0.125
0.185
0.25
Rated Power W
26
52.5
77.5
105
Peak Torque N·m
0.19
0.38
0.56
0.75
Peak Current A
5.4
10.6
15.5
20
Resistance Ω
1.8
0.8
0.8
0.54
Inductance mH
2.6
1.2
0.8
0.54
Torque Constant
0.035
0.0355
0.036
0.0376
Back-EMF Constant V/KRPM
2.45
2.71
2.74
2.62
Rotor Inertia g·cm2
24
48
72
96
Body Length mm
76
96
116
135
Mass Kg
0.45
0.60
0.75
0.95
Related Names
Brushless Electric Device for Technical Vehicle Air Filtration | Milking Facility Used Motor without Brush | Brushless Motor Machine for Scientific Instrument | Medical Device Used Electric Device without Brush